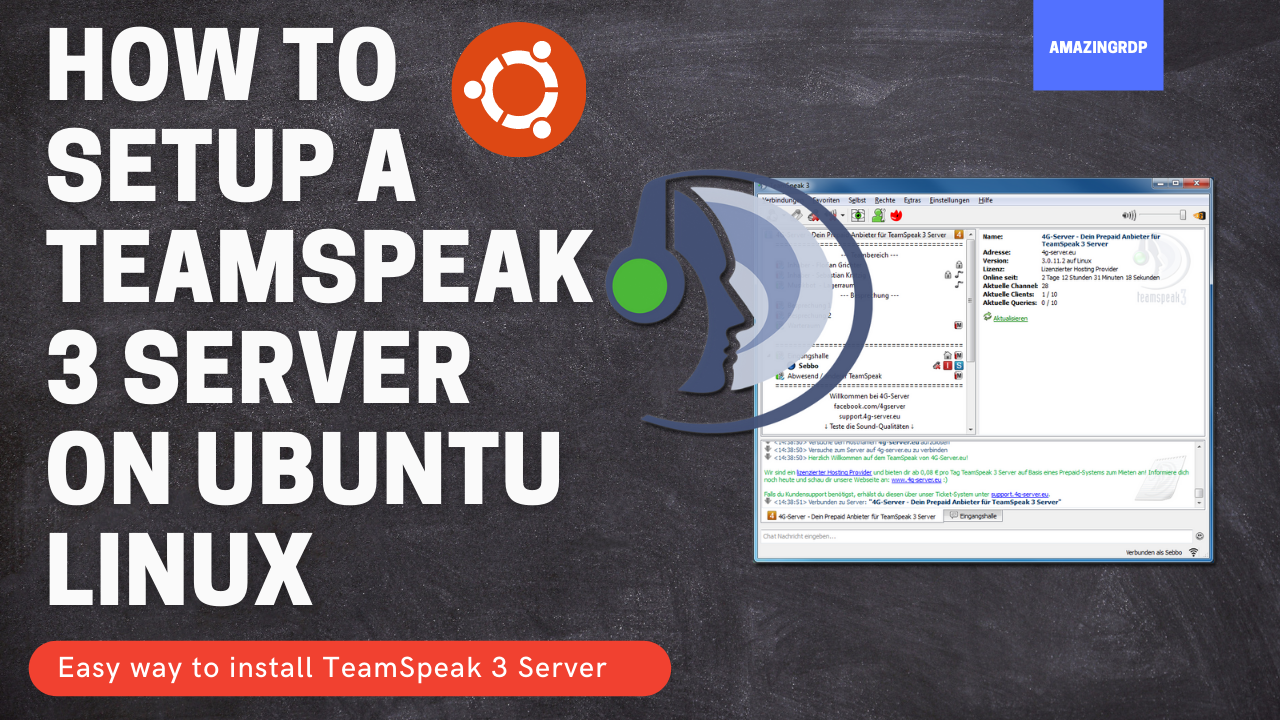 ---
Teamspeak 3 is software that is particularly popular with gamers and is used intensively. In the gaming community, Teamspeak 3 is one of the best VoIP Platforms for gaming Users. In this article – How to Setup a TeamSpeak 3 Server on Ubuntu Linux, we will explain what the program Teamspeak 3 can do and when you need it and how to Setup Teamspeak 3 in a simple way.
Before we starting a setup for TeamSpeak 3, we will go through some backgrounds of TeamSpeak 3. As you have seen before that TeamSpeak is VoIP Software so let's start with VoIP Software.
– Short info about VoIP –
VoIP stands for Voice-over-IP and describes voice communication over Internet-based networks. VoIP is one of those technologies that can make everyday situations easier or make work processes more efficient: the best prerequisites for decisively changing the future of telephony.
In the course of the phasing out of the traditional telephone systems, which established their connections in a classic way via the copper cables of the fixed network, many new possibilities for telecommunications have emerged with VoIP.
What is TeamSpeak 3?
Teamspeak (TS is, as the name (Team = English for team and Speak = English for speaking) suggests, a software that is optimally designed to communicate with each other in a large group. Teamspeak is used particularly frequently in Environments such as game communities (clans, guilds) are used. The requirements for Teamspeak are very low so that even older computers have no problems with running Teamspeak in the background. Teamspeak is ideal for use in reaction time-dependent (keyword: ping ) games, such as Counter-Strike. In contrast to Skype, Teamspeak is specially designed to serve large groups of clients.
Teamspeak is chatting software that is primarily geared towards parallel use with online games. It enables agreements with fellow players in real-time without them being in the same place.
You can write or make phone calls with friends on Teamspeak. The language quality of the tool is considered particularly good.
You can call with just one person or with entire groups. Files can also be sent via Teamspeak. So you always stay up to date with your gamer friends.
You can download the software as a 32-bit or 64-bit version.
Let's Start  To install our own Teamspeak 3 server on a  Linux server or dedicated root server.
Prerequisites –
Linux Root Server Credentials
An Ssh Client Like Putty
I will make it easier for you. we will do it Step by step
Login to Server
Create user and Directory For Ts3 Server
Download TeamSpeak 3 Linux Server Version
Unzip the Downloaded File
How to  Setup and Start TeamSpeak 3 Server
1.Login to Server.
As I told you before we need a Ubuntu Root Server. Now Download SSH Client PuTTY. It's a Completely Free SSh Client. Before you download, Check your CPU Architecture. I would recommend you going through the default installation process.
Now Open PuTTY, Enter your login details, click on SSH and click connect. It will connect you as Root Admin.
2.Create user and Directory For Ts3 Server.
why do we need to create Extra users for TeamSpeak Server? because of some Security Reason, TeamSpeak Server won't run as the root user.
Now Type adduser teamspeak3  and press Enter. You can also Choose a Different Name.
Let's set the Password With passwd teamspeak3and press Enter.  You need to Confirm The Password.
After that, we need Creat Installation for TeamSpeak 3 Server. Let's Do It with Command mkdir /home/teamspeak3
Lets Assigned the Directory to User teamspeak3 with Command chown teamspeak3 /home/teamspeak3
Let's switch from the "Root" user to the "teamspeak3" user with Command su teamspeak3.
2.Download TeamSpeak 3 Linux Server Version.
At first Change the Directory where we want to install TeamSpeak 3 Server with Command cd /home/teamspeak3
Now Go to the Official Website and Copy The Download Link, Check before your CPU architecture.
Now download The file with wget command : wget https://files.teamspeak-services.com/releases/server/3.13.6/teamspeak3-server_linux_amd64-3.13.6.tar.bz2
3.Unzip the Downloaded File
Now unpack the file with the command tar -xfvj teamspeak3-server_linux*.tar.bz2
we used * because the name is always the same only the architecture and version number will change every time.
4.How to  Setup and Start TeamSpeak 3 Server.
Let's go to the Unpacked Directory with the command cd /home/teamspeak3/teamspeak3-server_linux-amd64
After that start the TeamSpeak Server with command /home/teamspeak3/teamspeak3-server_linux-amd64/ts3server_minimal_runscript.sh
Your TeamSpeak 3 server is running now.
It is now important to copy the following data from the installation output. These will be needed later for your server admin rights on the Teamspeak 3 server!
login name = "server admin", password = " issued password "
as
token = key for server admin rights
After you have copied the server admin password and the rights token, you can connect to your Teamspeak 3 server with your Teamspeak 3 client.